Hey sweets!
Housekeeping!
---


Porcelain:
(A sneak peak of the main menu!)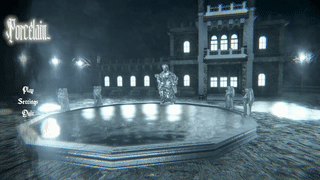 I think that the project is ripe enough to spill some info:
It is going to be a short, exploration-focused horror game, but something won't make the act of explorating that easy.
The initial inspiration that started the whole project is the movie PHENOMENA by Dario Argento (which is also the inspiration behind the very first Clock tower game!), expect plenty of easter eggs!
It is the prologue to Preternatural (albeith the latter will be completely different gameplay wise), so some things will inevitably appear a little "nebulous". It can be still enjoyed as its own thing tho!
The game will be available for free on Itch, and the soundtrack will be available on my Youtube channel.
Hopefully it will be able to run on potatoes and toasters (I have a potato myself) without sacrificing too much graphically wise (CAUSE I NEED MAH AMBIENT OCCLUSION JUICE).
I can't really give a release date, however, just know that if a new trailer drops, it means it's really close
Just a note: the music box girl from the teaser is not the protagonist.
---
Animations:
All them are stuck in limbo until I'm done with Porcelain :/
POSSESSION and FILTHIER still have priority over the other ones though.
---
See you soon, but most importantly
See you in the dungeon!